When it comes to our pets, many of us feel like they're full-fledged members of the family. And while there's no way to quantify the bond between you and your animal companions, National Puppy Day is the perfect time to celebrate our pets—and take a look at a few dog houses where the term "spare no expense" clearly has come into play.
America spends more than ever on our pets

Since we have no intention of getting into a cat lovers vs. dog lovers debate (or bearded dragon lovers—we see you), we'll look at some overall national pet spending trends. In 2020, CNBC reported Americans spent over $99 Billion on our pets. Yes, that's "Billions" with a "B".
And if you think this number isn't a trend, guess again. Morgan Stanley forecasts we will spend $275 Billion per year by 2030. Again, that's a "B".
Every pet lover knows how quickly toys, food, treats, vets, walkers and day care can add up. But there are some pet products out there to make even the most dog-loving among us shake their heads.
Now, clearly most pups probably aren't curling up in a $564 dog blanket. And while we love our little friends, a $1549 doggie wedding dress probably isn't on the registry. With that in mind, check out how far some owners will go to ensure their pups live their best life in the dog house of their dreams…
Dream houses that are for the dogs

You may have heard the story about how architectural legend Frank Lloyd Wright designed a dog house for a young pet lover back in 1956. And while these dog houses may not have the same minimalist, mid-century modern feel, they certainly do make a statement.
This Swiss Chalet dog house will only set you back $5300—but boasts "Authentic Swiss architecture with European style shutters and balconies."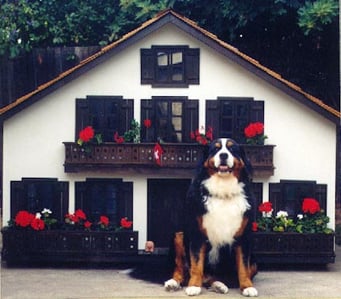 If that's not your pup's style, maybe the Hacienda dog house is more to your liking. It retails for $30,000, but what price can you put on happiness?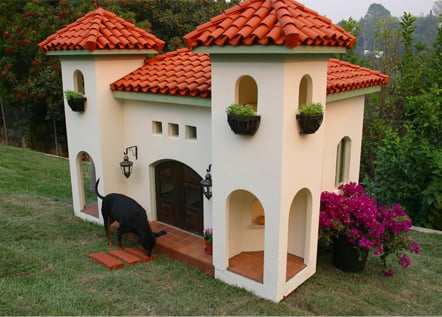 Not to be outdone, a few Great Danes in the United Kingdom reportedly got their paws on a custom doghouse with a price tag of £250,000 (just around $318,000). According to a 2008 Daily Mail article, the dog house featured two bedrooms and a day lounge—as well as a 52-inch TV and automated food and water bowls.

Looking to upgrade the palace you and your pets share?

The truth is, most dogs would probably be happier with a nice run in the park, game of fetch or extra treats than any of these posh pup palaces. Maybe that's why they make such great best friends.

And while you may be thinking of upgrading your pup's living space, you might prefer to consider some improvements to the home you and your pets share. A new roof—a re-done backyard? Maybe it's time for a new kitchen—or an entirely new addition to your home?

Those ideas and decisions are entirely up to you. But if you're considering a major expense like home improvement, you can always look to Spring EQ to find the best way to access cash from your home's equity to cover the costs. We're happy to help, and have a wide, deep range of loans for homeowners to choose from. If you're interested, take a moment to request more information on a Spring EQ home equity or HELOC loan.